Living in a foreign country, it can be easy to loose track of the rhythm of the year as you adjust to new holidays and traditions. But I am determined not to let Halloween just pass me by. So here's a list of spooky stuff I like.
1.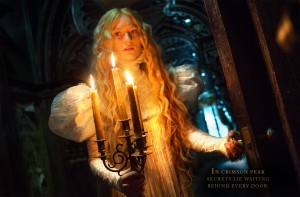 Saw this last night with my roommate. I am a sucker for haunted house movies, she's a sucker for gothic romances, we both got what we came for. I would have liked a little less cgi ghosts (or a lot less) but damn, those costumes.
I just realized that a short story I just finished may have been loosely inspired by this.
3. The Apex Micro-Fiction Christmas Contest
Speaking of which, it's time again for the Apex Micro-Fiction Contest! I look forward to this every year. I've never won, but I've written some stories I really like because of it (and even sold one of them).
4.  Purity Ring
A Canadian electronic-synth-pop duo. Megan James has a very sweet, childlike voice which makes the fact that there songs are full of obvious and oblique body horror all the more chilling. And they're playing here in London at the end of this month! I knew there was a reason I moved to this city! To see Canadian indie bands!
Tags:
Halloween
,
Short stories
,
Writing